Fifty stories above the city streets of Boston, student groups can enjoy learning while feeling on top of the world at the Skywalk Observatory. The Acoustiguide audio tour and engaging interactive exhibits provide visitors with a greater appreciation for this fascinating city and its rich cultural history.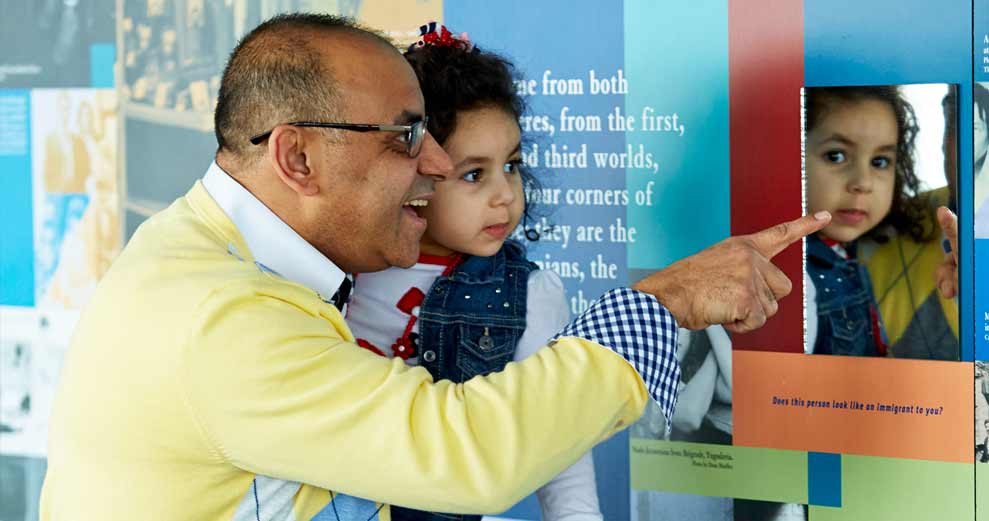 While exploring the museum, student groups can discover a variety of engaging exhibits, including:
Who Wants To Be An American?
This interactive game show lets groups step up to the podium and compete for a winning spot as a historic expert. Based on actual questions from the United States citizenship test, the state-of-the-art game display provides an entertaining and fun learning opportunity for groups of all ages.
Ethni-City
Learn about the colorful festivals celebrated by Boston's ethnic communities.
The Bay State: A Multicultural Landscape, Photographs of New Americans, by Mark Chester
People from nearly every country on the globe live in Boston. An interactive map of the world featuring the artistic photography of Mark Chester illustrates the diverse nationalities represented in Boston and their geographic locations in the city.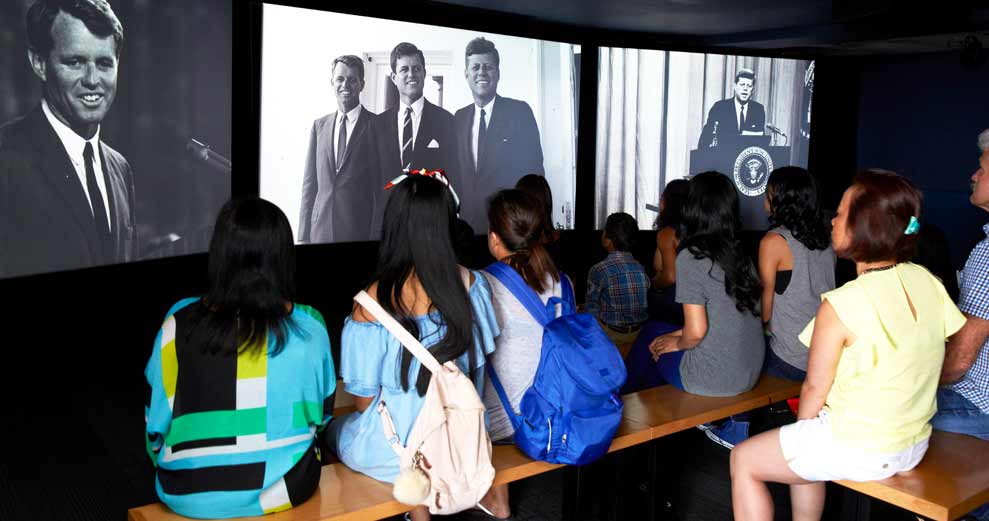 Listen To Our Stories – The Whispering Wall
A celebration of Boston's immigrants, featuring scholars, activists, artists, lawmakers, builders, athletes and inventors, and a pictorial look at Boston's changing cityscape.
The New Bostonians
In 1998, former Mayor Thomas Menino established the first office specifically to welcome and assist newcomers in a U.S. city. Within weeks of his election in 2014, current Mayor Martin J. Walsh inaugurated the Capacity Building Initiative to help organizations working with immigrants. Today, Boston Public Schools children come from more than 100 countries—and nearly half of these students have at least one foreign-born parent.
Shown in The Skywalk Theater you'll find:
Dreams of Freedom: The Boston Story
Groups could immerse themselves in an exceptional video tour of immigration in Boston from Colonial days to the present. Special interview guests include Mayor Martin J. Walsh, Senator Linda Forry and Shari Zakim. Narrated by Jimmy Tingle.
Children of the World / Boston
With photography by Randi Freundlich, this uplifting video montage features Boston children from such diverse homelands as Sweden, Lebanon, Tibet, India, Haiti, Czech Republic, Jamaica and Vietnam, set against the sounds of a children's chorus singing "America The Beautiful."
Wings Over Boston
The Skywalk's spectacular aerial video tour of Boston and Cambridge offers viewers get a birds-eye view of the Back Bay, Beacon Hill, the State House, The Public Garden, Harvard University, MIT, The John F. Kennedy Presidential Library, and more. The city's annual Fourth of July fireworks celebration along the Charles River provides a stunning finale for the 12-minute video, produced exclusively for the Skywalk.
This Is Boston
Here's a stunning time-lapse look at Boston from Faneuil Hall to Fenway Park, including a moving Memorial Day display of American flags on Boston Common.
To book your next group visit, check out Skywalk Observatory.
Content and photos courtesy of Skywalk Observatory.