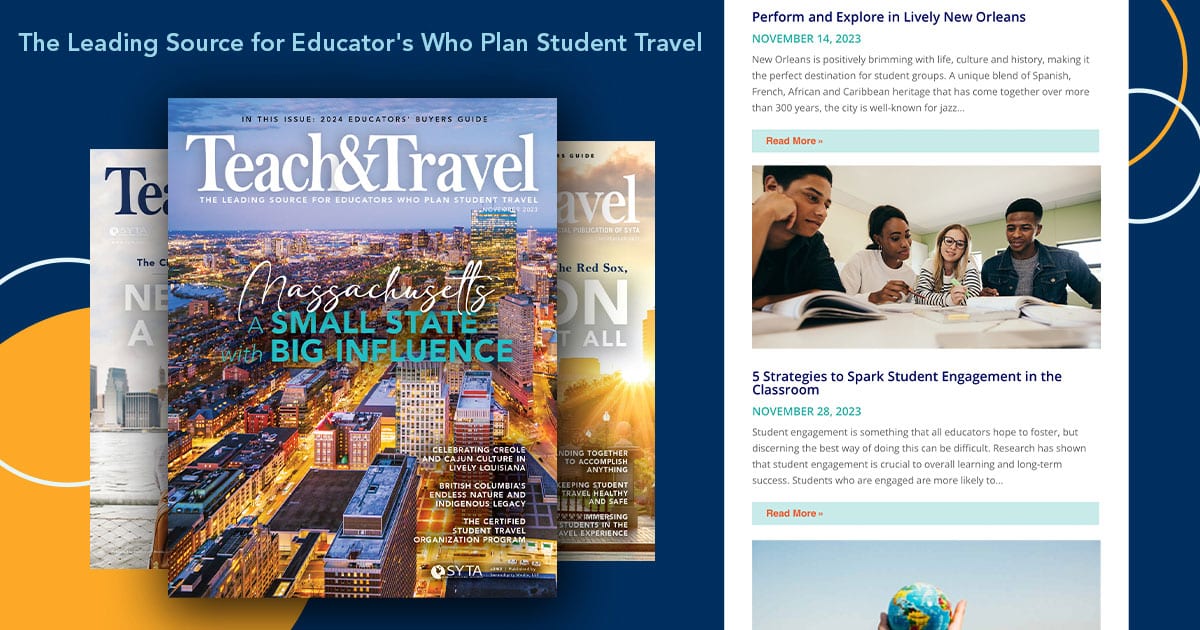 ABOUT US
Teach & Travel is the leading source for educators who plan student travel. It is dedicated to helping educators understand the issues, trends and insights into the social and educational benefits of student travel. It provides information and tools to make the process of organizing student trips easy, convenient and safe. Teach & Travel also directs teachers to specialist student tour operators who help mitigate risk in travel planning. Teach & Travel is sponsored by the Student & Youth Travel Association (SYTA), whose mission is to provide life-enhancing travel experiences for students and to establish quality and safety standards for travel providers.
From a content perspective, Teach & Travel provides educator profiles—opportunities to learn from your peers—resources regarding health & safety, profile destinations to consider, and tools to help you gain support for student travel from your administrators and school boards. The print edition of Teach & Travel is read by over 93,000 educators!
To subscribe to the publication or our weekly eNewsletter, click below!
Contributor Inquiry
Interested in submitting an article for consideration in Teach & Travel magazine and/or our eNewsletter? Click here to let us know!
As stated above, Teach & Travel is sponsored by the Student & Youth Travel Association (SYTA). SYTA is the non-profit, professional trade association that promotes student & youth travel and seeks to foster integrity and professionalism among student and youth travel service providers.