Located on the famed Broadway in Nashville is the new National Museum of African American Music (NMAAM), a destination whose mission is to educate the world, preserve the legacy, and celebrate the central role African Americans play in creating the American soundtrack.
Keep reading to explore why this new destination should be added as a must-see stop on your itineraries.
IT'S ONE-OF-A-KIND.
Having officially opened in January 2021, the National Museum of African American Music is the only museum dedicated to preserving and celebrating the many music genres created, influenced and inspired by African Americans. The 56,000-square-foot institution is brimming with opportunities for visitors to explore, learn, appreciate and be inspired.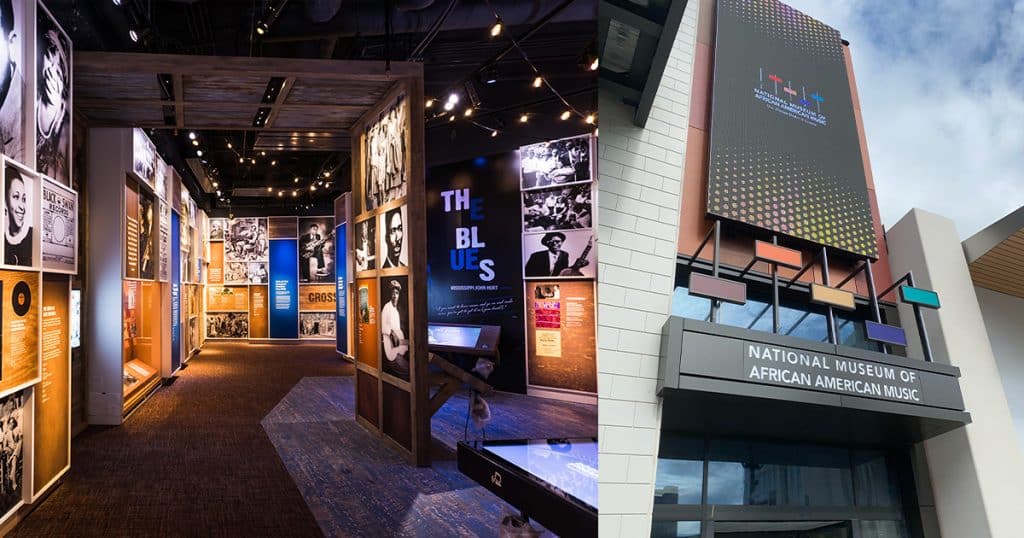 GALLERIES ABOUND.
Through six distinct galleries, groups can explore more than 50 music genres and styles that were created, influenced, and/or inspired by African Americans, including spirituals, blues, jazz, gospel, R&B and hip hop. Groups will find artifacts, objects, memorabilia, clothing, and state-of-the-art technology designed to share a different narrative and a unique perspective on African American music and history.
From having an immersive film experience in the Roots Theater—host to film screenings, lectures, music performances and concerts—to producing an original song in "One Nation Under A Groove," groups have plenty to look forward to experiencing.
GROUPS CAN GET A VIP EXPERIENCE.
In partnership with Clearbrook Hospitality, LLC, the NMAAM goes above and beyond for groups, offering exclusive "GET IN THE GROOVE" VIP group experiences. The customizable experience includes: A guided tour of the Museum, a hotel stay for one night in Nashville; roundtrip transportation to Nashville on a Gray Line Charter Bus or affiliate; local-themed Nashville restaurant boxed lunch for your bus ride. All packages are customizable, with the option of adding other experiences and tours for additional fees.
YOU CAN EXTEND THE EXPERIENCE.
Before and after your groups visit the NMAAM, tune in to the "We Sound Crazy" podcast, created with the support of NMAAM and Nashville Convention & Visitors Corp. Hosted by three music industry veterans and a music aficionado, the podcast is your backstage pass to music and culture, unlocking the secrets of your favorite moments in entertainment. Listen in for one-on-one conversations with household names like Usher, DJ Jazzy Jeff, Tamar Braxton and more.
Learn more by visiting the National Museum of African American Music.
Courtesy of Groups Today.
Photos Courtesy of 353Media Group, Courtesy of Nashville CVC.