The new Richard Gilder Center for Science, Education, and Innovation at the American Museum of Natural History in New York City is now open! With a unique, organic design informed by nature, the Gilder Center was constructed using "shotcrete," a sprayed-concrete technique invented in the early 1900s by Museum naturalist and taxidermy artist Carl Akeley. Within soaring, light-filled spaces, your student group's visit to the Gilder Center will create countless moments that spark curiosity.
"I'm excited that the Gilder Center will reveal more of the cross-disciplinary processes of science and be a powerful springboard for an even deeper integration of the Museum's ongoing research with our exhibition program and education initiatives—all while inspiring our visitors to appreciate and learn about how all life on Earth is connected," said Museum President Sean M. Decatur.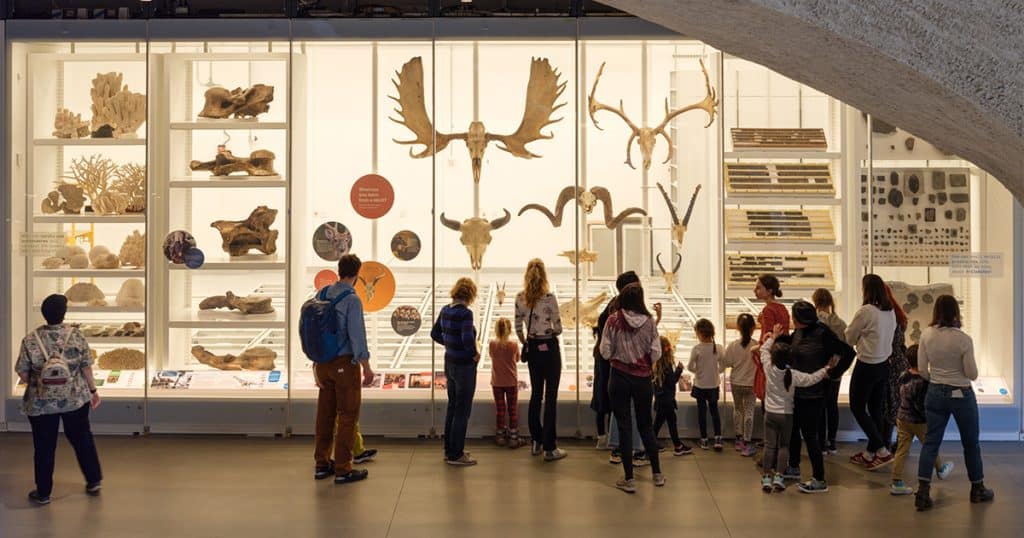 KEY COMPONENTS OF THE NEW GILDER CENTER
The new Gilder Center offers groups plenty of experiences to enjoy, engage and be enriched. Visitors enter through the Kenneth C. Griffin Exploration Atrium, a five-story space that serves as a new gateway into the Museum from Columbus Avenue, opening onto Theodore Roosevelt Park and creating a visitor path to the Museum's entrance on Central Park West.
Once inside the new Gilder Center, groups won't want to miss the Louis V. Gerstner, Jr. Collections Core, featuring three stories of floor-to-ceiling exhibits, including the Macaulay Family Foundation Collection Galleries on the first and second floors, representing every area of the Museum's collections and showcasing more than 3,000 objects; the 5,000-square-foot Susan and Peter J. Solomon Family Insectarium, featuring live and pinned insects and graphic and digital exhibits; the year-round, 2,500-square-foot Davis Family Butterfly Vivarium, where visitors can mingle with up to 80 species of free-flying butterflies; and Invisible Worlds, an extraordinary 360-degree immersive science-and-art experience that reveals how all life is connected.
On weekdays, you can also visit the David S. and Ruth L. Gottesman Research Library and Learning Center, a dynamic hub that connects visitors with the Museum Library's unparalleled resources. It's here that students could stop by during the day to read, browse, or view collection displays, including an alcove showcasing materials from the Museum's Rare Book Collection.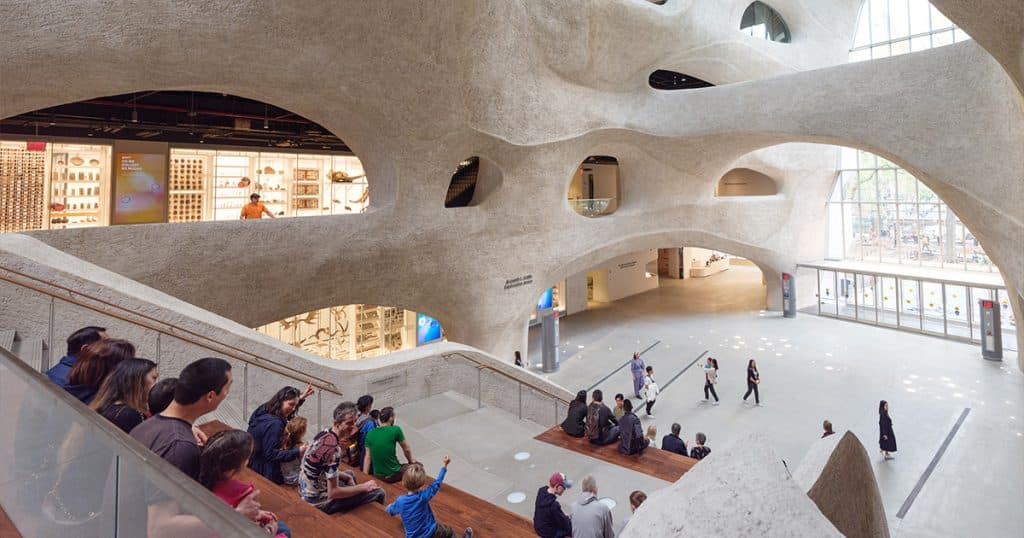 ARCHITECTURAL DESIGN
In addition to the Gilder Center's exhibits and collections, groups will find themselves enamored with the building itself and its stunning architectural design.
With spectacular architecture designed by Studio Gang—the international architecture and urban design practice led by Jeanne Gang—the 230,000-square-foot Gilder Center invites visitors to explore the fascinating, far-reaching relationships among species that comprise life on Earth and reveals connections across the Museum's rich collections, trailblazing research initiatives, educational programs, and exhibition galleries.
Inspired by natural formations, the Gilder Center's fluid curves, recesses, windows, and bridges suggest exploration, connection and discovery and connect new and existing galleries in ways that highlight intellectual links among different scientific disciplines. The Gilder Center creates approximately 30 connections among 10 existing buildings on the Museum's campus, including to the newly opened Allison and Roberto Mignone Halls of Gems and Minerals, eliminating dead ends and enhancing the visitor experience.
To learn more and reserve tickets for your group's next visit, see American Museum of Natural History.
Courtesy of American Museum of Natural History.
Photo Credit: A. Keding / © American Museum of Natural History.