In times of distress, we as a society come together; we gather around one another. This rings true in the realm of sports and we see it over and over again: a unity that transcends most other things.
That's one of many themes that can be explored while viewing Who Shot Sports: A Photographic History, 1843 to the Present at the Grand Rapids Art Museum (GRAM). Comprising over 200 images in color and black-and-white from the past 175 years, Who Shot Sports presents an astonishing diversity of work by more than 150 photographers. The exhibition includes classic images of legendary athletes and historic action shots, as well as images captured behind-the-scenes and on the sidelines—some, never before seen by the public.
Sports—familiar and unfamiliar—are represented, in photographs taken across six continents. Spectators worldwide are portrayed, too, demonstrating an enthusiasm for sports that surpasses national borders and socioeconomic levels.
Segregation had a history and an undercurrent in sports—a theme that unfortunately resonates still today in a variety of ways. Guests may notice an absence of African-Americans and women in photographs from earlier in sports photography history.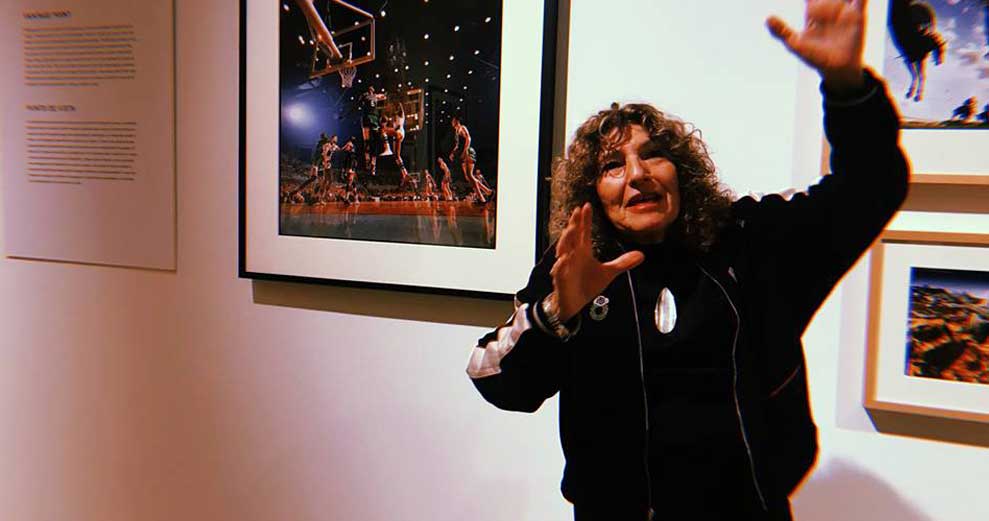 "We're in troubling times," said Gail Buckland, Exhibition Curator. "Art is a salve; sports is a salve."
Buckland adds that sports are inherently tribal and through it all, today, they help to heal and unify.
"The exhibit is really about why we love sports, and some photographers are truly able to capture that," said Buckland. "When selecting photos for this exhibit, I really just went with my gut and past experience."
The photographs on view were selected not because of their importance in sports history necessarily, but because they are aesthetically powerful images in their own right. Divided into nine thematic sections, they encompass examples of the earliest photographic processes and the latest digital technologies.
Photographers who capture such images are on the front lines of human drama, preserving bodies in motion, giving shape to the emotions of victory or despair while capturing the spirit of the games and the nobility in athletic pursuits.
Buckland, who has authored and collaborated on 14 books of photography and history, in addition to being the former curator of the Royal Photographic Society of Great Britain, recognizes that women in photography are special. After all, she knows many of them personally.
"Some of the best sports photographers are women. They're tough!"
When Buckland sat down to discuss the exhibit, she said her hope is that visitors of all ages can come to the exhibit and leave feeling like they've found something they could relate to, whether it's a decisive moment, a unique vantage point or a rousing victory.
"Sports are beauty in motion with a powerful competitive edge. The ancient Greeks celebrated their athletes and the finest artists of antiquity preserved those athletes' achievements. Today, it is the photographers who give sports its indelible image," said Buckland.
"Still photographers are masters of moments."
The Who Shot Sports exhibit's stay at GRAM is the last chance for anyone—worldwide—to see this spectacular collection of photographs. Visit GRAM before January 13, 2019, to capture these images in your mind.
You can also view many of the images in Buckland's companion book, Who Shot Sports: A Photographic History, 1843 to the Present.
Written by Sarah Suydam, Staff Writer for Teach & Travel.
Main photo courtesy of Bob Martin | Photo within copy courtesy of Sarah Suydam)
Who Shot Sports: A Photographic History, 1843 to the Present, is organized by the Brooklyn Museum and curated by Gail Buckland, Benjamin Menschel Distinguished Visiting Professor at The Cooper Union for the Advancement of Science and Art.