Enjoy powerful fun for all ages by planning an electrifying educational field trip to the admission-free Niagara Power Vista, a USA Today "10 Best in Niagara" attraction. The Power Vista features more than 50 interactive energy and STEAM exhibits about hydroelectricity and Niagara's geology. The exhibits, located mere minutes from Niagara Falls in Lewiston, New York, are on par with the best science museums in the country.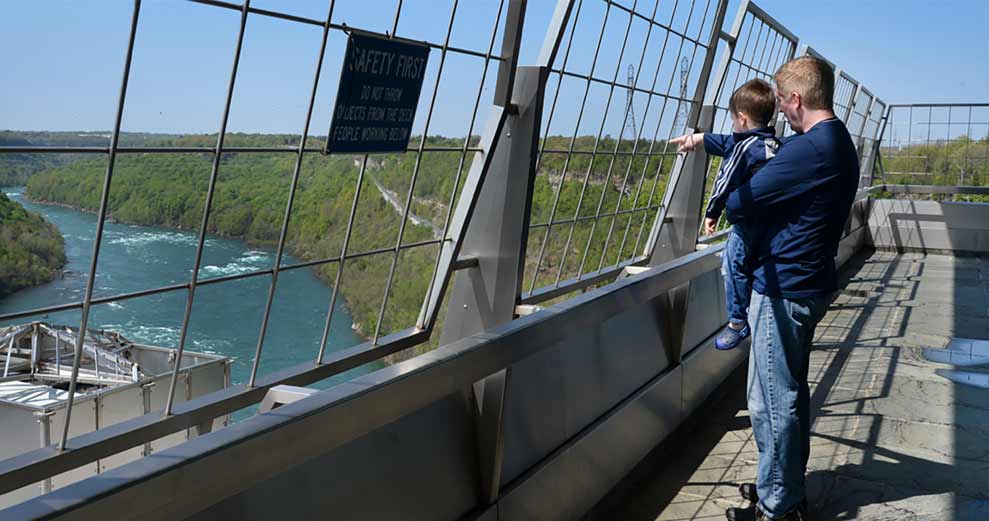 Where Science Meets the Playground
The New York Power Authority's Niagara Power Vista provides an exciting, hands-on interactive adventure designed for inquisitive minds of all ages and is the visitor center of the Niagara Power Project—New York State's largest electricity producer. The project generates clean, renewable electricity from water. The Power Vista sits atop a power dam with an observation deck offering breathtaking views 350 feet above the Niagara River Gorge.
Must-See Exhibits
Come see why nearly 100,000 people visit every year. The STEAM-based science exhibits can be tailored to three different audiences: elementary school students, middle school students and adults. The exhibits include the latest hands-on interactive technologies, touch screens, smartboards, animations, high-definition video and internet connectivity.
Watch the "war of the currents" between Thomas Edison and Nikola Tesla, who debate the best method for transmitting electricity: AC or DC power. Hold on tight as students take a virtual ride in the 4D theater to see how hydropower is created and get "dropped" into the Niagara River.
Will students be able to keep the power flowing or cause a blackout? They could build a dam, operate a power plant during a storm or control a transmission system. Visit the smart home to learn how to save energy. If students really want a hair-raising experience, they could grab on to the Van de Graaff machine and watch what happens to their hair! They'll be charged up as they experience the effect of high volts without the jolts.
Pre-Registration Has Its Rewards
The Niagara Power Vista hosts group visits, including free guided tours and events. The community room and outdoor patio are ideal places for your bag, catered or picnic lunch. Learn how you can host a special birthday party or reunion.
Pre-register to save time! Once New York Power Authority receives the date of your visit, you'll be sent a confirmation packet. Upon arrival, meet your personal tour guide and receive your Power Player card, which provides access to age-appropriate challenges to store your photos, avatar and game scores. With parental permission, students can share photos with family and friends on social media.
The Power Vista, located at 5777 Lewiston Road (Route 104) in Lewiston, New York, is open 9 a.m. to 5 p.m. daily (except some holidays) and is handicap accessible. Parking and admission are free. Enjoy area attractions by riding the free seasonal shuttle.
Still have questions? Call 716.286.6661 or schedule your visit.
Content and photos courtesy of The New York Power Authority.