When Missy Connor set out to open TreeTrekkers in Frederick, Maryland, she had a clear vision for the project.
Though the 30-acre plot of privately owned and protected forest situated a few minutes outside of Downtown Frederick looked like just a wooded area next to the highway to most, to Missy … it looked like a huge opportunity.
Having opened in fall 2019, TreeTrekkers is Frederick's first and only aerial challenge and zipline park. The park offers three adventure climbing areas, catering specifically to three different age groups and levels of ability. Within each area, a variety of courses with different obstacles and ziplines are available.
Missy wanted to create an environment that was fun for every member of the family and every person in any group. Very young climbers can explore the WanderWeb, where several obstacles are presented in the form of a web, rather than in a single direction. Expert climbers can challenge themselves on the black diamond courses, with elements over 65 feet up from the ground.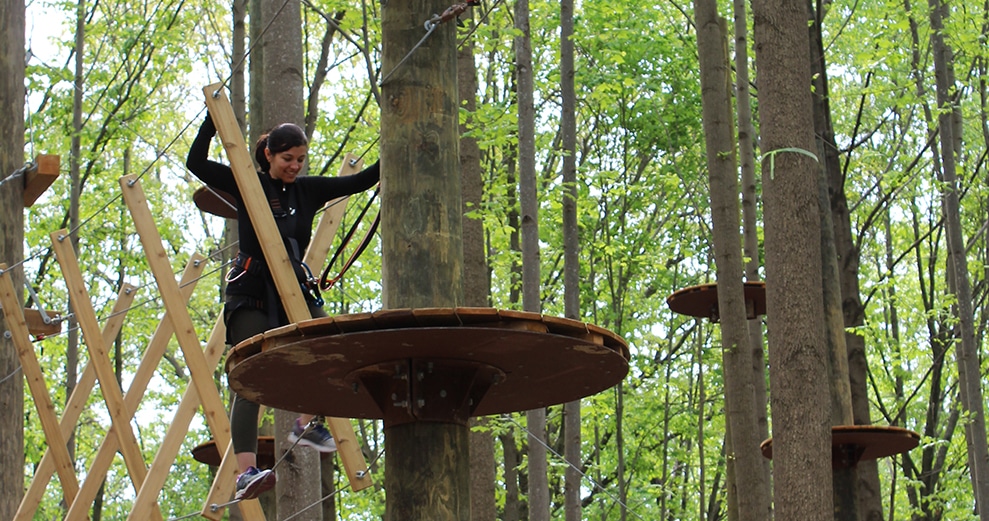 Including aspects of fun and teambuilding were both important to Missy, but preservation of the environment was equally crucial. In keeping with the TreeTrekkers mission, she is committed to protecting the existing tree canopy and natural features within the park. It's her hope that by exposing people of all ages to nature in a positive way, they too will have an appreciation for sustainability and preservation or our greatest resources.
Learn more and start planning your next adventure at Visit Frederick.
Written by Melissa Joseph Muntz, Marketing and Communications Manager, Visit Frederick.
Photo courtesy of Visit Frederick.