Universal Orlando Resort's tagline is "The universe is your classroom." Yet the theme park goes well beyond expanding classroom walls. Universal Orlando Resort's youth and education programs offer opportunities for students to hone their talents, skills and—perhaps more important—explore possibilities.
Universal Orlando Resort's youth programs offer real-world scenarios through the STEAM App series, business learning series, educational behind-the-scene tours and more … Including performing arts opportunities, a discipline that often gets brushed aside in funding and curriculum.
STARS Performance Programs offer students in band, orchestra, choir, dance and other performing arts an opportunity to practice their teamwork, refine their showmanship skills and get a taste of the spotlight. It's the perfect relationship for a theme park with a rich history of entertainment—particularly in the music and movie industries.
Still, there's more to the spotlight than center stage. Universal Orlando Resort's youth programs help students explore those possibilities.
"There are so many things you can do in the music and film industry. If you don't make the audition, there are still ways you can be involved," said Teresa Crews, Manager of Program Development, Universal Orlando Resort Youth Programs.
That's where the Sound Design: Music and the Art of Foley workshop comes in. Designed in partnership with renowned music composer and educator Robert W. Smith, the workshop offers band, choir and orchestra students a behind-the-scenes look into syncing music and choral arrangements, Foley, and digital sound effects to real movie scenes from hits like Illumination Entertainment's Despicable Me.
"Students don't really make the connection to what's happening in the music and movie industry to what's happening in the classroom," Smith said. "It starts right here. The motion picture industry starts in the classroom."
In Sound Design, students are led through the production process of a movie in one of the Universal Orlando Resort sound stages previously used for filming shows, such as Nickelodeon's Double Dare. Students learn the roles of producers, conductors, and audio and video engineers within the movie industry.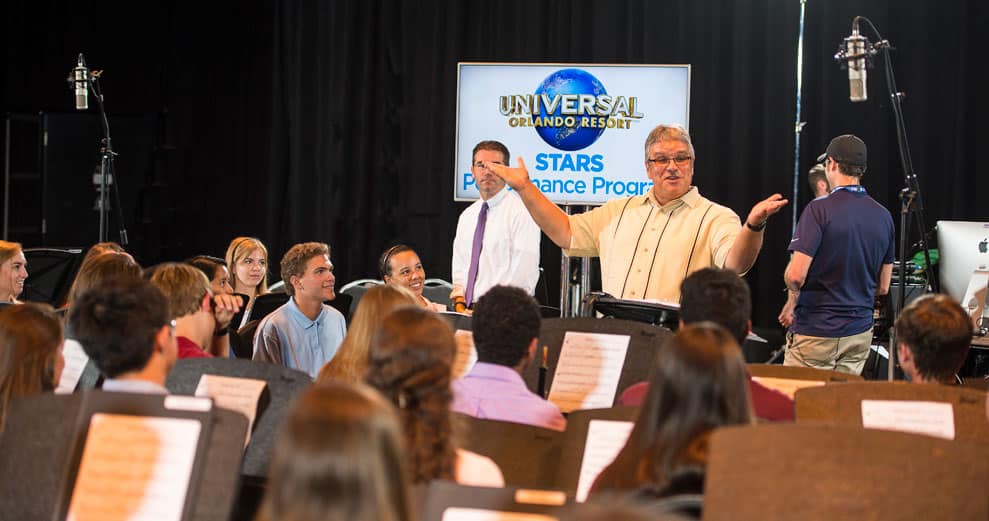 Students may sight-read upon arriving at the studio, but the workshop typically begins in the band, choral or orchestra room before the trip—when students learn and practice the piece. Upon arriving at the studio, they have a few minutes to tune their instruments or warm up before recording.
When performing, students must be conscious of matching the music to the film. When recording for Despicable Me, the students must play to match the minions—that's 148 beats per minute.
After performing the arrangement, students audition for voice roles. While they may be reading from scripts when recording, they put their own creative spin on the characters.
True to show business, not everyone lands the audition. Yet the students who don't make the voice auditions get another opportunity: to learn the art of Foley, or capturing sound affects. They become privy to the mysteries and secrets of movie sounds: the movements of tiny robots are pens clicking, and a dog's toenails clacking on wooden floors are human fingernails tapping on tabletops.
After all the recordings are set, the audio engineering team pieces together a rough edit for the students, and a final cut is sent to the group at later dates.
When it's all said and done, students are part of the music and movie industry.
"Every little sound in here has a meaning and purpose," Smith said of the process. No note, noise or role is insignificant. Every aspect of the process—music, technology, engineering and more—is important, and students work together to achieve a goal. Whatever field students study, whatever career they choose, Sound Design will help them grow and explore endless possibilities.
Written by Cassie Westrate, staff writer for Teach & Travel.
Photo Courtesy of Octavian Cantilli.